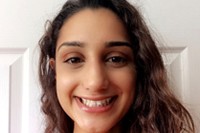 The winner of the June 1st, 2018 Odenza Vacations Scholarship is Alisha Mahkri from South Elgin, Illinois. Alisha graduated from South Elgin High school in South Elgin, Illinois and plans to attend the University of Illinois at Urbana-Champaign.

Message from Recipient:
"From the bottom of my heart, thank you so much for choosing me to be the recipient of the 2018 Odenza Vacations Scholarship. Without the generosity of scholarship money, I would not be able to make my dreams of a higher level education come true. This money will help pay for my tuition that will put me on the road to becoming a physician. This fall I plan to attend University of Illinois at Urbana-Champaign studying Molecular and Cellular Biology on the focused Pre-Med track."