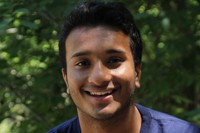 The winner of the June 1st, 2017 Odenza Vacations Scholarship is Nikit Venishetty from Plano, Texas. Nikit graduated from Plano East Senior High School in Plano, TX and is currently attending Rice university.

Message from Recipient:
"I would like to thank the Odenza Vacations Scholarship for giving me this opportunity. It really means a lot to me that someone cares about my education and is empowering the youth. The money from the scholarship will enable me to focus more on my extracurriculars and help me accomplish my goal to become a physician. I plan to use the money towards my tuition at Rice University."