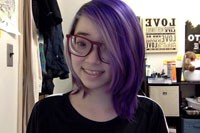 The winner of the June 1st, 2015 Odenza Vacations Scholarship is Suzanne Palacios from Edinburg, Texas. Suzanne graduated from Robert Vela High School in Edinburgh. She is currently attending the University of Connecticut and studying towards a major in English.

Message from Recipient:
"Thank you beyond measure for this opportunity and help you have provided. As an out of state student, everything helps in paying for the high cost of tuition and other materials. I will be using this money to pay for books and supplies. I hope to one day be able to help others in the way you have helped me."